Being a leader of any industry for more than 30 years will teach you a few things: Who to work with, who to avoid; what products are reliable, which are sure to let you down; what companies operate with integrity, what companies leave you wanting. After many years of being the powder coating specialists in Melbourne, we've learned to only work with those powder coating equipment companies that follow the same guiding principles as we do here at RM Coating Supplies. Which is why we choose to carry the always reliable and durable equipment and supplies by Gema.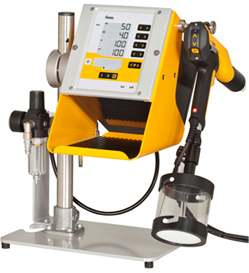 Gema is the global leader in the manufacturing of powder coating equipment and parts. Gema's facilities around the world help powder coating application specialists with high-tech, state-of-the-art equipment. According to Gema's website, there are more than 3,500 automatic systems and more than 250,000 powder guns, manufactured by this industry leader, in use around the world today.
We at RM Coating Supplies choose to work with Gema because of their dedication to setting new standards of excellence for the entire industry, their innovative product lines and their commitment to integrity and honesty. As Melbourne's source for the best in powder coating equipment, training and consulting, we also continuously strive to maintain a level of excellence and service that is rarely seen. We only hope to be a trusted supplier for powder coating operations across Melbourne and beyond. A supplier that stands behind it's stellar reputation. A supplier that cares.